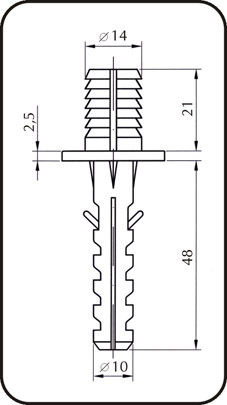 Dowel for concrete stairs
Dowels for installation of wooden stairs on concrete surface are made of polyamide.
They are flexible, they don't crumble and also resistant to shear and breaking.
Recommended for fast installation of
wooden steps and 28-millimeter wood-based panels on concrete, brick, sandstone, tile, concrete block, marble, natural stone etc.
Using the 14 mm dowel
at the upper part allows
direct assembly of step on interference
and helps to preserve rigidity of the construction.
Plastic pads are attached with the packaging. They are used to level the installed steps.
When installing the stairs, using our polyamide dowels
gives secure junction of stairs with concrete surface or wooden construction
.
It also
significantly reduces installation time.
By using polyamide dowels, there are no traces of installation.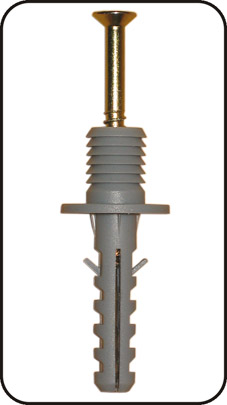 Traditional installation requires to drill a hole for wheel bolt and cover it with wooden peg.
When using the stairs, wooden bolt sometimes pops out and have an unesthetic apperance.
When using polyamide dowels,
wooden plugs are completely unnecessary.
An unquestionable benefit of using polyamide dowels
is simplicity of leveling wooden steps, precision and simplicity of installation and stability of the step.